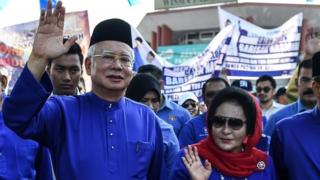 Former Malaysian Prime Minister Najib Razak and his wife have been banned from leaving the country, immigration officials say.
This comes after Mr Najib said that he and his family were planning to go on an overseas holiday on Saturday.
Earlier this week, Mr Najib's long-ruling Barisan Nasional coalition suffered a shock electoral defeat.
Mr Najib has been accused of diverting $700m (£517m) from a state investment fund in 2015 – a charge he denies.
He has since been cleared of by the authorities.
On Thursday, Mahathir Mohamad was sworn in as Malaysia's new prime minister, becoming the world's oldest elected leader at 92.
Dr Mahathir came out of retirement and defected to the opposition to take on and beat former protege Najib Razak.
How Mr Najib has reacted to the ban?
In a tweet (in Malay), he said he had been informed by the immigration authorities that he and his family would not be allowed to travel abroad.
He gave no reasons for the authorities' decision, but said he would abide by it.