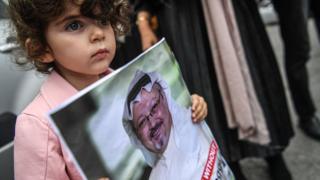 Jamal Khashoggi – a well-known Saudi journalist – went into his country's consulate in Istanbul on 2 October to obtain a marriage document and, according to Turkish police, never came out.
Authorities in Istanbul believe he was murdered within the consulate walls, but the Saudi government maintains he left.
Once an adviser to the royal family, he had fallen sharply out of favour with the Saudi government and went into self-imposed exile last year.
We take a look at Mr Khashoggi, his career and the events that led up to his disappearance.
Born in Medina in 1958, he studied business administration in the US at Indiana State University.
He then returned to Saudi Arabia and started his career as a journalist in the 1980s as a reporter for regional newspapers covering the Soviet invasion of Afghanistan.
There, he followed closely the rise of Osama Bin Laden, interviewing the late al-Qaeda leader several times during the 1980s and 1990s.
A prominent journalist
From there his career covered other major events in the region, including the first Gulf War in Kuwait.
He returned full-time to Saudi Arabia in the 1990s and in 1999 became the deputy editor of the English-language Arab News newspaper.
In 2003 he became editor of the Al Watan newspaper but was fired just two months into his tenure for publishing stories that were critical of the Saudi clerical establishment.
After his dismissal he moved to London and later Washington to serve as a media adviser to ambassador Prince Turki bin-Faisal, Saudi Arabia's former intelligence chief.
He returned to Al Watan in 2007 but left three years later after further controversy.
Following the Arab Spring uprisings in 2011, he expressed support for Islamist groups that gained power in several countries.
In 2012 he was chosen to lead the Saudi-backed Alarab news channel – touted as a rival to the Qatari-funded Al Jazeera.
But the Bahrain-based news channel stopped broadcasting less than 24 hours after its launch in 2015 after inviting a prominent Bahraini opposition figure on to speak.
Considered an authoritative voice on Saudi affairs, Mr Khashoggi has also been a regular contributor on international news outlets.
'We Saudis deserve better'
The journalist left Saudi Arabia for the US in summer 2017.
In his debut September column for the Washington Post newspaper, he said that he and several others had gone into self-imposed exile because they feared being arrested.
He said dozens had been detained in an apparent crackdown on dissidents under Crown Prince Mohammed bin Salman – who has been pioneering an ambitious economic and social reform program in the country.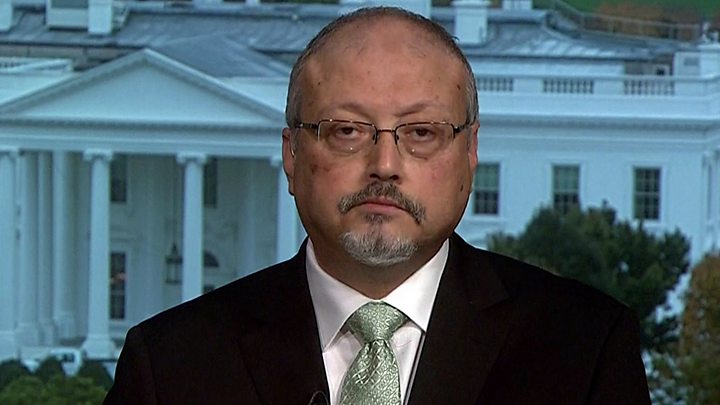 He also alleged the Saudi government had pressured the publisher of Arabic daily newspaper Al-Hayat to cancel his column and said he was told to stop tweeting to his 1.8 million followers after he cautioned against the country's "overly enthusiastic embrace" of then US President-elect Donald Trump in late 2016.
"I have left my home, my family and my job, and I am raising my voice. To do otherwise would betray those who languish in prison. I can speak when so many cannot. I want you to know that Saudi Arabia has not always been as it is now. We Saudis deserve better," he wrote.
In his writing he accused the Saudi government of ignoring real extremists in its crackdown, and compared the crown prince to Russian leader Vladimir Putin.
His last piece was published on 11 September, and the paper published a blank column on Friday to highlight his disappearance.
Mr Khashoggi has not been seen since Tuesday, when he went into the Istanbul consulate to obtain official divorce documents so he could marry a Turkish woman he had become engaged to.
His fiancée, Hatice Cengiz, said she waited outside for him for hours but he did not emerge.
She says he had to surrender his mobile phone while entering, and had told her to contact an adviser to Turkish President Recep Tayyip Erdogan if he did not return.
Turkish authorities say they believe he was killed within the consulate and have requested access – but the Saudis say the allegations are baseless.
In his last column, he criticised Saudi involvement in the Yemen conflict:
"Mistakes and risks associated with long-term conflict diminish Saudi standing internationally and increase the chances of a confrontation with traditional allies. Defence Secretary Jim Mattis recently stated, "We support our partner Saudi Arabia's right to self-defence." The Saudi media ran Mattis's statement and quoted him with great enthusiasm but selectively omitted the portion that stated American support was "not unconditional" and that he urged Saudi authorities to "do everything humanly possible to avoid any innocent loss of life."
Mattis's remarks should serve as a reality check to Saudi Crown Prince Mohammed bin Salman. Saudi Arabia is defined and represented by its Islamic stature. We should not need to be reminded of the value of human life. Muslims around the world deserve to see the birthplace of Islam represent the ethics of Islam."