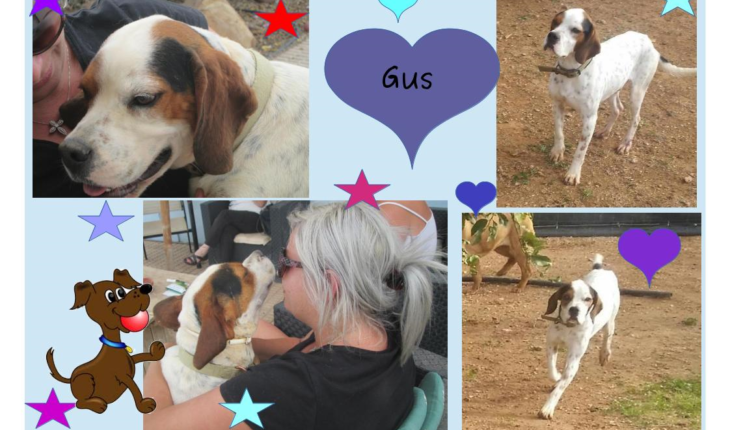 Gus is a 5 year old male Pointer we think possibly Basset or Beagle Hound mix. This boy was rescued a few years ago – he was in a Spanish Pound where he had become skin and bone and very frail and would have died if not rescued by a lovely lady and nursed back to health. This was a few years ago and like many dogs in Spain he has been over looked for homing because he is not a puppy or young dog. I have met Gus quite a few times on my trips to Spain he is in foster kennels with a lovely family who look after the dogs the Charity we work with board theirs and he always looks like a cheerful happy chappy running around with the other dogs and we have recently been asked to help.
Gus is a very friendly dog he has no malice in him, he gets on well with all the other dogs and people, he has been in the house at times not just in kennels and is loved by everyone who meets him with his lovely happy ways. Gus has not had a forever family for a very long time if ever so he needs an understanding home who will give him time to adjust to living and having his own family, he will thrive but it will take time but he is a special boy and will be worth it, if you have any other questions about Gus or need any other information please contact us.
Like To Find Out More About Adopting This Dog?
Gus is neutered, vaccinated will have him blood tested – if you feel you could be the right home for Gus please email us for our questionnaire.