Ice-Cold Takes is a weekly NHL humor column discussing recent trends around the league. Voted the No. 1 hockey column by my good friend Rishabh, who gets 100 percent of his hockey news from this column (for which I should probably apologize).
It's conference final time in the NHL and, as we all predicted, the Washington Capitals and Tampa Bay Lightning face off in the East while the Winnipeg Jets and Vegas Golden Knights do battle in the West. The NHL is just too predictable. Pause…not. If you have these four teams in your bracket right now, you're either a time traveler or a damn liar.
It's mind blowing how many more people watch the NBA playoffs. The entire regular season is just a long, drawn-out precursor to the same two teams playing in the NBA finals for the fourth straight year. Who needs parity when you can just see a replay of the best player in the world paired with a bunch of scrubs lose to a superteam of the second best player and three other guys in the top 10?
The term "that's why they play the games" doesn't apply in the NBA. Just give us one long best-of-30 series between the Golden State Warriors and the Cleveland LeBrons. Let's not talk ourselves into Houston having a chance. It doesn't. Boston, though coached by possibly the greatest coach of all time in Brad Stevens, will not beat the Cleveland LeBrons after LeBron decides he is done resting.
Apologies. This is about hockey, not basketball. We're well into the conference finals and there is no shortage of storylines floating around the league. Let's gather up the dumbest ones and get to work.
Trending Up
1. Metallica
The greatest band on earth is a staple of most arenas, and we're seeing more and more Metallica in these playoffs. Nothing on earth can fire up a crowd like hearing those first few licks of a classic 'Tallica song.
The Jets come out to "For Whom the Bell Tolls," and every time I see it I want to run through my television set. Coming from a now-casual fan (Bruins are out), that is saying something. This tweet summed up how I feel so perfectly that I had to double check that it wasn't something I had tweeted.
Meanwhile, the Tampa Bay Lightning are coming out to "Thunder" by Imagine Dragons and they wonder why the Capitals are stomping all over them. Some of you probably think "Thunder" by Imagine Dragons is a decent song. Some of you are wrong.
The San Jose Sharks are out, but watch this and tell me you aren't fired up.
2. NHL on NBC
Normally, there is no way I'd give any credit to the network that chooses to employ Pierre McGuire, but the NHL on NBC twitter account is clearly run by someone more socially aware. On Monday night, the account tweeted that it would be reacting to the Jets vs. Knights game using gifs from The Office. Obviously, it was amazing.
It's fitting that NBC chose to do this as Pierre McGuire would fit in as a character on The Office. Picture this: Michael Scott and new hire Pierre McGuire travel to Philadelphia to catch a Flyers game. They run into retired all-star and likeable dude, John Scott. McGuire chimes in "Michael Scott, meet John Scott. No relation." Great job, Pierre.
3. Hockey dogs
As you know by now, ICT loves good dogs. What is better than a good dog enjoying a good game? Probably nothing.
"He thinks he's people!" This good dog is even rocking the classic JOFA bucket, to boot! These playoffs have been filled with dog stories, from Bark-Andre Furry in Vegas, to Mr. Chow in San Jose. How long will it be before Purina starts slapping signs on the boards?
Hockey isn't just a human sport anymore. More and more doggos are enjoying the games, and it's time we made hockey a pupper-inclusive sport.
Not included in dogs we want to see at hockey games are these terrifying Black Mirror-like robot dogs coming out of Boston Dynamic. Stay home, creepy death machine.
Lil dude can dance though.
Trending Down
1. Alex Lyon
AHL goalie for the Lehigh Valley Phantoms stopped 94 of 95 shots in a thrilling 5-overtime win over the Charlotte Checkers. Sure, Lyon was pretty good in the game and a .990 save percentage is decent, but he was only four saves away from the AHL record!
Situational awareness, Alex! You had a chance to make history just by telling your d-men to slide out of the way for a couple of shots, or diving in front of a few pucks that weren't really threatening. Instead, you'll always be second fiddle in an obscure stat that we will forget about until the next time a game goes to five overtimes. Sad!
2. The Elderly 
Sorry, old people; while millennials continue on their path of destroying everything you love, they are now also stealing your jobs. Lou Lamoriello stepped aside as general manager of the Toronto Maple Leafs last week. He was replaced with child-genius Kyle Dubas.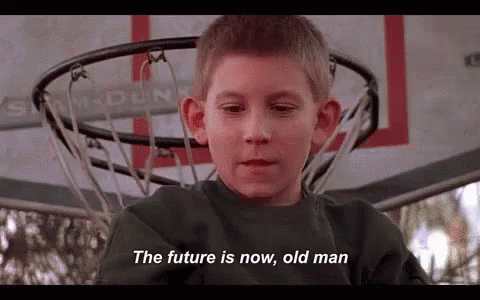 Dubas is the most recent management hire in a growing list of trendy young hires who are doing extremely well in their new positions. The list includes Sean McVay (NFL — Los Angeles Rams) and Brad Stevens (NBA — Boston Celtics) — decent company. It's too early to include Becky Hammon, assistant coach with the San Antonio Spurs who is seemingly next in line for a head coaching position in the NBA.
While millennials have been hired to these types of positions in the past, it was usually a one-off for which the team would be heavily scrutinized. Not anymore. We're in a situation now where teams will start seeing who can hire the youngest genius. Before we know it, Brayleigh from daycare will be named the first general manager of the Seattle Kraken.
3. NHL Referees 
The NHL referees have been okay at best this offseason. They have yet to completely blow a game (aside from the Lightning/Bruins non-call on McAvoy. No, I'm not bitter) but they have made and missed some questionable calls.
Two things. First, the sign is genius and these two deserve props. Second, unfortunately they are Lightning fans. The Lightning are not losing because of calls, they are losing because we're three games in to the Eastern Conference final and they forgot to show up for the first two games.
I blame that terrible intro song. Get rid of Imagine Dragons and go back to playing "Thunderstruck" by AC/DC. That's a hockey song right there. Oh, and they'll probably need a little more offense from their top forwards, as well.
Bonus coverage
No betting this week as there is not much to choose from and I don't feel like losing more money. Instead of the betting section, let's end this column with some more basketball hate.
Good hockey kid, right there. Thumbs up.
For more from the NHL playoffs, make sure to follow FanSided and stay tuned to our NHL hub for all the latest news and results.